We know that visitors to our centre would like to know more about the wonderful gals that greet, screen and test them. The centre is fortunate to have these student professionals.
Annie Orukotan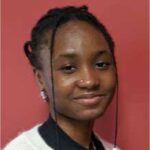 Annie moved to Victoria from Abuja, Nigeria after high school to pursue a Bachelor of Arts degree in Economics at the University of Victoria. After three years of working and schooling, she joined the VCC team as Receptionist/ Greeter because she wanted to gain hands-on experience working in an office setting. She says it has been a whirlwind getting to know the residents, families and staff and is ever grateful for this opportunity. It has been a tremendous learning curve trying to adapt to the new position as a Greeter/Screener, especially with the ever changing regulations. Working at VCCC has been a noteworthy educational and professional stepping stone.
Mim Meechaiphasuk
Mim was born and raised in Bangkok. She has a degree in Political Science from Thammas at University Bangkok, Thailand. Before coming to Canada, she worked in the marketing field for 2 years. Now she is working on her Business Admin Degree at the University of Victoria. She joined the VCC team as a Receptionist/Greeter because she wants to nurture her soft skills, gain valuable work experience while developing connections and relationships.