Interview with Heather Birkett
HCW Mentor at Victoria Chinatown Care Centre
(This interview was conducted by LowellAnn Fuglsang on Zoom, January 21-2022)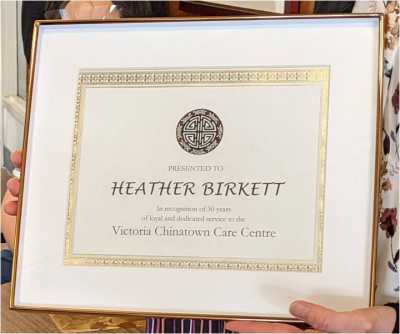 Heather celebrated her 30th year at VCC on Jan. 7-2022. The centre will celebrate this early in February. We realized that many resident families and staff members would like to hear all about Heather's experiences so we arranged this interview with the intention of posting celebratory notes and pictures to our website.
She was born and attended school in Victoria, the youngest of five children. When she finished high school she worked in retail for a while when that business went out of business. At this critical point, she decided to go into Nursing only to discover a two-year waiting list to get into the program. However, she could gain immediate entry to the Care Aid Course. When she graduated, she was referred to the Director of VCC as one of the best. "She asked me how I would feel working at a sort of an alternate type of facility where most of the residents didn't speak English and I thought that would be great. What appealed to me the most was the size of the facility. I always wanted to work in a smaller facility where you could really focus on getting to know your residents." She started right away and partnered with Susan Mui (who later became recreational coordinator)
Life handed her many ups and downs including taking care of Marantha, her daughter, meeting and marrying Glen and coping with his illness and his passing away in 2004. She speaks fondly of the team she worked with and the support they provided her during those difficult times.
Her work philosophy has made her work very satisfying. "Making sure all the residents get the extras they deserve because their life has shrunk down to this small little world and they rely on us for their comfort in their care. And the little extras that make life better. I think what I've tried to develop as my superpower, is finding out the little tiny details of things and how residents like things done. And remembering them every time I go in to do their care. It gives them relief and a sense of comfort, but also the fact they know they can trust me."
We know that Heather has learned a lot of Cantonese and I asked if she took courses. No, she learned the words she needed from her first partner Susan, "every day I'd asked her for a new word. And she would tell me "Jo Sun" – good morning, and I would practice that. Then the next day, I'd ask her for two words, and what does that mean? Susan never lost her patience with me."
They worked hard in those days: There was only one Care Aid per floor. "We did our own baths. We had no mechanical lifts. We had to do all our lifts manually. So I would dress all my residents if I was on first floor and she'd do hers on the second. Then we'd run up and down between the floors to help each other move residents into the wheelchairs. And in '98 I discovered that the Asian staff was being paid less. So in 1999, we brought the Union in. Then staffing started to get increased and that's when they added a second position."
Heather credits her mother for teaching her well – "my mum always said 'put yourself in their shoes, treat others the way you would want to be treated in this world. And if you're going to do a job, do the best possible job you can and be the person other people want to work with'- those were the rules that I was raised with. I feel like I'm giving my parents honour by living by those rules."
What gives Heather joy outside of work? "I run marathons – that keeps me sane. My grandson Cedar, my present husband Steve, and my family. We have the best parents you could have ever asked for. And so being together with family." She also reads self-help books and lots of science fiction ("I'm stuck in the Wheel of Time series which is a million different books")
Does Heather have any plans for retirement? (which won't be till she's 60) Here's her list:
A beautiful vegetable garden
Full and ultra marathons
Travel to Tuscany and eastern Canada
Art gallery visits
A volunteer role at Chinatown Care
What message would Heather like to leave with us? "I just need to say that working at Chinatown Care has given me so much more than I feel like I've given and I will just keep giving because it's been my support. It's been part of my family and in me through so many parts of my life that I don't know how I got through without everybody there."